What Is a Good Credit Score for Renting an Apartment?
Like any good financial writer and blogger, I love talking about money. Everything interests me when it comes to personal finances. If I know something, I enjoy sharing my knowledge on the the subject. If I don't know about a particular topic, I want to find someone who does understand it so they can teach me.
While most people consider conversations around money a taboo topic, my closest friends have accepted I'm just weird when it comes to my interests. For the most part, they humor me when I want to yap about finance.
That's what happened one evening a few years ago when a friend and I got into a discussion about credit. My friend -- like many Millennials -- did not have a credit card and didn't want one. But this same friend did want to rent out their own apartment soon.
"But you'll need a credit history to rent an apartment!" I said. "Most companies that manage rental properties, and even individual landlords, check your credit score before allowing you to sign a lease."
My friend scoffed. "Cash is king! I don't need credit because I'm responsible with my money," they countered.
Here's the thing: A credit score can and does affect your situation when you want to rent an apartment. A bad credit score may not immediately disqualify you from renting or cause your rental application to hit the rejection pile. But landlords and leasing offices will run a credit check with your application and the results can influence what happens next.
Thankfully, I was able to explain to my friend that opening one no-fee, low-limit credit card and using it to buy regular purchases like gas and groceries could build credit history and help them work toward a good credit score. They were able to rent the apartment they wanted -- and start building a positive credit history with a solid score in the process.
If you're not sure what a good credit score for renting an apartment is -- or just want to know how your credit can affect your rental situation when applying for a new living space — you're in the right place. Let's look at how credit scores affect renting in general, and some specific steps you can take to improve your score to get approved for an apartment.
Potential landlords or leasing agents run credit checks on potential applicants to help evaluate that individual's financial situation. Your credit score is like a financial report card, and it's used to determine how financially responsible you've been in the past.
It may feel unfair, especially if you've worked hard to get yourself out of debt but your credit score hasn't yet recovered. But put yourself in the landlord's or leasing company's shoes: their rental property is a business, and renting to someone with a low credit score appears more risky than renting to someone with a good credit score.
Using a credit score to determine the likelihood of a potential tenant paying rent in full, on time, and throughout the life of the lease is not a personal attack. It's simply a business decision.
Most individuals or companies renting an apartment want credit scores from applicants to be 620 or higher. People with credit scores lower than 620 may indicate a high risk of default on rent owed.
A lower credit score could mean you're less likely to be approved for the rental you want, especially if you're looking to rent in a popular area. If 10 other people apply for the apartment, it makes good financial sense for the landlord to accept a person with a higher credit score.
A low credit score does not mean you won't get approved at all. You can still rent an apartment with poor credit. Here's the potential difference: landlords may not base a decision off at the exact number associated with your credit score, but at the cause of your bad credit.
If you have unpaid items, late payments, or garnishments, you might send up a red flag. They indicate that you may not pay rent when it's due or reliably every month. On the other hand, if you have consumer, medical, or student loan debt but make your payments on time, a low credit score may not be viewed with such a critical eye.
Bottom line: a good credit score for renting an apartment is one over 620. So what should you do to get approved for a rental if your score is under that benchmark?
First, understand that improving your credit score takes time and diligent action. Paying your credit card balance off on time for two months won't equate to a meteoric rise in your credit score. What will make a positive difference is consistent action over time.
Of course, when it comes to renting an apartment you may not have months to spend patiently coaxing your credit score higher and higher. Consider these actions that can help you get approved to rent an apartment even without the world's best credit:
1. Review your credit report. Before applying to rent an apartment, request a copy of your credit report. You can obtain a report for free once per year by visiting www.annualcreditreport.com. Ensure your report doesn't contain errors, which could drag your credit score down — and contact one of the three credit bureaus to report a mistake if you do find one.
2. Don't shop around. Do research before sending in rental applications. Each time someone puts in a request for a hard credit check, that inquiry is recorded. Too many inquiries in a short span of time could push your score down further.
3. Provide proof of employment. A credit score is only one measure of financial stability. Show that you're financially responsible and capable of paying the rent each month: allow a landlord to call your employer and obtain a reference. This helps prove you're in a stable financial position.
4. Provide additional references. In addition to securing a reference from your current employer, you can also ask for references from past landlords to vouch for a history of paying your rent on time and in full.
5. Find a cosigner or roommate. Most landlords or leasing agencies will run a credit check on everyone who puts their name on the rental application. But higher the average credit score is from each signer, the more likely that the application will be accepted. Having multiple cosigners (and/or roommates) lessens the financial risk no landlord wants to take on: not getting paid.
Of course, the ultimate fix for a low credit score problem is to work to improve your score over time. This isn't a quick process, so have patience with yourself and trust that small, positive actions add up to big, positive changes in the future.
If you're in debt and haven't established a debt repayment plan, reach out for help. Use the tools available to you — like ReadyForZero! — to help you attack and eliminate all your debt.
Once a plan of action for repayment is in place, work to establish consistent money management habits:
Don't carry balances on credit cards.
Make all payments on time each month.
Pay more than the minimum on debt repayments.
Pay the full amount on other bills, like monthly credit card statement and rent.
It's also important that you avoid running up big balances on your credit cards, even if you pay those balances off in full and on time each month. A high credit utilization ratio hurts your credit score.
Stick with these good habits over time, and your credit score will improve. You'll soon have that good score for renting an apartment -- and then some.
Kali Hawlk is a personal finance writer for ReadyForZero, a website for getting out of debt. She enjoys discussing topics like student loans, budgeting, and paying off debt from the perspective of a millennial. You can read more of her work at the ReadyForZero Blog.

No Credit Check Apartments Your job is your credit
Are you interested in renting regardless of your credit history?
Do you have any questions?
We take the time to become intimately aware of your individual situation so that we can deliver the service to meet your expectations.
Check some of the reasons why 100's of clients choose to use our services:


Our clients find the best no credit check apartment options
What our clients say…
You have a reliable source of income. Here you are you made it. You have your life in order.
You come a long way. Working on your credit, new employment, money in the bank, maybe some assets. If you are looking for a no credit check apartment or bad credit rental we can help. Let us show you who to Anchor Your Assets Lease Guaranty, can help you get the most of where you are so you don't have to go back to yesterday. Let Anchor Your Assets Lease Guaranty help you with your final stretch of your home run. What does that mean? A safe place you your family, your family, your spouse, a place you can truly call home.
Anchor Your Assets Lease Guaranty has a unique relationship with property management companies, apartment complexes, investors and property owners across the country that are willing to help you move in to the luxury apartment you've been driving by to complete your turn around in your life. Or that beautiful home in that perfect school district that you were just wishing you could have because your child deserves it.
Anchor Your Assets Lease Guaranty will give you a complimentary list of property management companies, property owners, home options and even rental guaranty services that charge a fee for their service that guarantee your performance of the lease to a landlord or property management company, is it worth it to you?
Find No Credit Check Apartments the Easy Way
Would you pay that extra fee to let someone help you? Is it worth to pay the special landlord or property management company an extra security to live where you want to live (not where you have to) for the safety and comfort of your family?
So how does this work? Very simple:
Contact us and we send directly to a company, owner or landlord that can help you. Pick from a preferred property list or a list of available properties, work directly with the company or property owner that we send you. If you select the property you like, pay the additional fee they require to help you out and take a chance on you to help you rebuild your rental history.
So what happens when you don't work with anyone or don't like the company?
You PAY NOTHING. Nor do you owe us a fee. So what happens if you do like a property and you are ready to move? Just work directly with a company or the owner and pay the additional fee when you are approved.
What do you pay us? Zero. Zilch. Nill. Nothing. Then how do we get paid? Tell the company or owner that you found them through Anchor Your Assets Lease Guaranty. So we can be paid for the time and effort to help you for FREE
Sound fair? Just contact us below and let's get started. What do you have to loose?
Over the last few years, you might have undergone several issues with your credit scores like millions of people throughout the world or even like the people in the USA. Simultaneously, you might see that the criteria for foreclosures as well as strict lending issues caused single homeowners to look for rental markets. In fact, you may find it difficult to get a rental approved with your credit issues because landlords in general run a credit check on their potential tenants with the help of management companies. So, save time and money before looking for no credit check apartments by checking to see if we can help you. We are here to assist you with all your concerns regarding the approval of your rental application.
Worrying about getting a cosigner or finding the perfect home that does not check your credit?
Do you feel helpless without finding a co-signer or applying for a home you like and getting turned down? Just shake off your concerns of co-signer as we can be by your side. You do not need to worry about your credit score when working with us.
Bring surefire chances for your rent approval:
Unlike many companies, we do not make some unrealistic offers, very simply only help you if we can guarantee you approval so you don't have to worry about trying to find only no credit check apartments and we can also help you with a bad credit VA home loan or if you already own your home cash out refinance with bad credit.
Our commitment is to improve your housing condition:
We assure you that you there is no need for you to undergo a credit check when considering a home you and your family have chosen. We are committed to helping you pass the hard and fast rules of credit as well as financial requirements.
Very simply, our commitement is for you to have a best-in-class experience as you relocate and find no credit check apartments. including popular areas like NY, CA, Texas (popular cities like Dallas, Houston, Arlington, Ft. Worth and Denton) and all other US States!
The Easiest Way Find & Get Approved for No Credit Check Apartments
Our economy has brought so many challenges across the four that the need for no credit check apartments is becoming greater and across the board finding a good home with a credit challenged background is becoming greater challenge. We believe it's not just about finding an apartment but finding an apartment or home that you look forward to going to everyday. One of the many challenges in finding a good home is this some of our neighborhoods that apartments or homes that don't check credit that are available. There is a great need for people (including Spanish speaking hard working americans buscando apartamentos para rentar sin credito) that are hardworking pay their bills are just at some charging situations in life I just need a nice home to enjoy regardless of past challenges.
Our program is designed for people that are working have stable income and just need a little help getting approved for an apartment or home of their choice.
How can I clean up my credit and get into an apartment?
Hello Michael, I am trying to start over. I filed bankruptcy in 2008 and everything was discharged. I started building new credit up until 2012. I have credit cards charged off, maybe 5, and a repossession in 2013.
I relocated in 2011 to another state due to divorce and loss of job. I lived in an apartment for 2 years and that's when I relocated.
The complex knew about me leaving and we both agreed. I pulled my credit report last year 2014 and saw that the complex sent me to collections for a bill I never received for paint and carpet, which I would think that should be done regardless, because I was there for 2 years. I called the collection agency tried to settle for half of the bill just to get it off my credit. They said no - all or nothing - and even if I paid it would remain on my credit for 7 years.
I came back to Illinois in 2013 because my mom got sick. She passed in April of 2014. I now am trying again to start over, but with the rental recovery no one will rent to me. Please point me in the right direction for what i can do to clean up my credit.
How can I clean my credit when I need to move?
Is it the property management company that is reporting the unpaid clean up costs that were not covered by your security or cleaning deposit (if there was one)? Is it an outside third party debt collection agency that shows up for this debt? If you needed to, in order to put this behind you and get approved for a new rental, could you come up with some money to settle the old bill?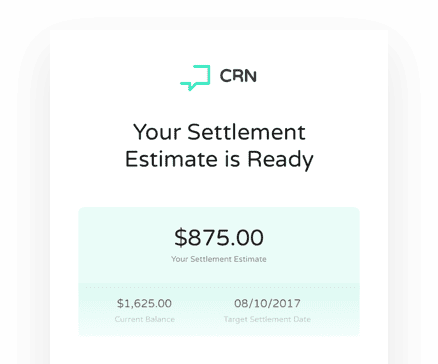 Get a debt settlement estimate and settle your debt using our platform without ever picking up the phone.
The answers to those question could change my feedback about how to approach cleaning your credit up.
Past landlord collections on credit can be overcome.
Renting an apartment with collections and past landlord issues on your credit reports is not impossible. Your pool of properties to choose from will often shrink though.
6 ways I have seen past debt relief customers rent a place, even with terrible credit, have included:
Be proactive and explain the past rental and collection issues up front. The smaller the property you may rent from, the likelier it may be that you can actually sit down with the person making the credit decisions. Write a well crafted letter that includes the details you need to cover, and include that with the application you submit.
Rent a room from a local homeowner. The owner may not run your credit to approve you. And you have the highest chance of making a great impression in person when you meet to see the place, which can help you overcome credit objections.
Renting a duplex or fourplex from the building owner that is an onsite tenant would have similar face to face benefits to renting a room.
Lay down a larger deposit than what is being requested for the specific place you are submitting an application to rent from. And put the fact that you are willing to increase, or even double your deposit, right out there when you are talking to the owner or manager.
Look for any discrepancy in what is being reported to the credit bureaus. Find an angle to dispute the most offending items off of your credit reports. More on this when you answer my questions about who is reporting in the comments section below.
Hiring a credit repair company.
Do not leave applications with the person at the front desk, or submit them online. Show up in person, and ask to speak to the property manager or owner. Dress well, keep great eye contact, and sell them on why you are a good choice as a tenant, regardless of what might be seen on your credit report.
There are credit repair companies out there that have some success cleaning up negative items off your credit reports. Some charge monthly fees that are reasonable, and others really soak you. Using a credit repair company for a few months to see if they can clean up a key derogatory over some minutia may be worth it. Just know going in that it can be difficult to get blatantly false information off your credit. If you do pay out for credit clean up, and you are trying to get something that is 100% accurate and current removed, you may not have any success.
You can clean up your own credit reports. It takes time just like hiring a credit repair agency would. There is nothing scientific to it, but it is something people will avoid doing for themselves.
I will have more to share once you post answers to the questions I posed above.
Anyone reading with questions or concerns related to credit report clean up and getting into a rental is welcome to post in the comments below for feedback.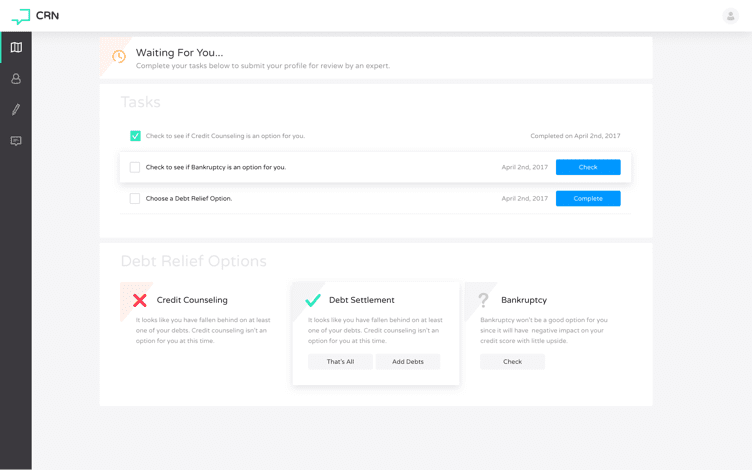 If you've fallen behind on your payments, then we can help you settle them with your creditor directly through our platform.
Getting out of debt is confusing. Signup today to get a free debt consultation and we'll show you your best path out of debt and help you get there.
We have experts standing by to answer any questions you have about debt settlements, lawsuits and judgements.
Michael started CRN in 2004 with a mission to provide people in need with detailed debt and credit help and education. Michael has participated as an expert panelist in federal consumer protection rule making, collaborated on state law changes governing debt consolidation, has worked as an expert witness in court matters related to the debt relief industry, and is a regular contributor to several personal finance websites.
You must be logged in to post a comment.
Michael since I currently have a low credit score due to a foreclose last year, can I buy a house with cash under my llc then loan the money to myself to pay off in installments to generate positive credit? Thank you!
Michael Bovee says
You can certainly buy a house with cash under a legal entity. I don't know that I would take the tact you mention to rebuild credit. Check out this post about rebuilding credit scores after foreclosure and the like.
Clara Kitchen says
I'm hoping you can help me. In 2010 we had to break our lease to move out of state to care for a sick family member, the landlord let us out of our lease and said we would only owe 2 months worth of rent. We agreed to pay that and she stated she'd send us a bill. About 6 months later we contacted her because we heard absolutely nothing form her. She told us she sent us to collections and refused to settle with us and call of the collection agency–to the tune of over $3,000–replace flooring, carpet, painting, and cleaning. Mind you we painted and paid a professional carpet cleaner to steam the carpets but we still expected not to receive our deposit back. When we first moved into our apartment our next door neighbor came over and introduced himself, he told me that him and his wife used to previously live in our unit and were transferred to the unit they were currently in because of a bad black mold problem and the complex had gutted and remodeled the unit–we were the first tenants to move into this "remodeled" unit. We are discovering that when they remodeled the unit that they never really got rid of the mold problem (which we heavily experienced and I documented with time stamped photos). When we finally received an itemized bill, we noticed that we got soaked for the charges to replace flooring and carpet due to mold–basically we got billed for repairs that were never done correctly the first time-before we had even moved in. I've tried disputing this on my credit report to no avail. This bill went to collections in April 2011, as of Jan of 2017 the total amount is over $6,000 now! There can't be any possible way that we racked up over $3,000 in interest charges and late fees?! We've lived in our current unit for almost 5 years and have consistently paid rent on time, but the apartments were sold to a private owner and are being turned into condos therefore we have to move in a month. We are being rejected left and right by everyone because of this debt, its been 6 years now and I"m at a loss as to what we do. Housing should be a basic human right and we're being denied that right and its frustrating. We've done everything suggested in your article (being open and honest and up front about debts owed, even offering deposits equivalent to three months rent and still get told no). The collection company is IQ Data International, I'm almost certain they are illegally inflating the amount owed (unless its entirely possible to accrue $3,000 in interest and late fees over a 6 year period). My question is: do I have any rights when it comes to this? is there anything I can do to have this removed? My husband and I and are 3 small children are now looking at renting a motel room to live in which is frustrating when we're both college grads who make really good money but this collection is literally destroying us. Thank you in advance for any advice you may have. Oh, and the apartment we rented was in Everett, WA. Thank you.
Michael Bovee says
Try an connect with any state or local housing and rental advocates in Washington and see what they can share with you. Also connect with the same types of organizations in your current state and see what they can recommend. This ages off your credit reports in a year, and it may be worth disputing with the credit reporting agencies with the hope that they delete it due to inaccuracies.
Private owners are who I would focus on, and not property management companies.
In 2012, 7 months in to a 1 year lease on an apartment, I had the opportunity to purchase a house for a smaller mortgage payment than the apartment rent was. After much back and forth with the apartment complex (managers were changed in the middle of the process, and deals made with the first weren't honored by the successor) the remaining 5 months of rent were sent to collections.
It's now 2017 and the collection shows that it should fall off in 2019, but I have since gotten divorced and need to refinance my home to remove my ex-husband ASAP. The rental account was only in my name, and remained entirely with me when we divorced.
I will be financially capable of paying between 50-60% of the debt within the next month or so, but I'm not sure how best to do so. I'd prefer to deal directly with the apartment complex if possible. The entire amount showing, even after substantial interest, is less than 4k.
I'm located in Colorado and Wakefield & Associates is the collections agency.
Is it possible, this many years out, to deal directly with the apartment complex? If not, how best to go about dealing with the collections agency? They've never called me, and I haven't received a bill in probably 4 years – it just shows up on my credit report.
Michael Bovee says
If the account is with a debt collection agency, whether the original owner or management company still owns the debt or the sold it, you typically have to deal with the collection company. You can certainly start by reaching out to the original owner/management.
You should be able to come to some king of arrangement to pay less and get your credit updated. It is less of a tip off if you have not already had your credit run for the refinance yet.
I am a disabled mother of three, one of which is also disabled… I worked diligently for four years cleaning up my credit. We lived in an apartment for a year and a half, I never was late on a payment. They decided they wanted to change from a year's lease to a month to month… Three months after my one year lease was up, they asked that I be out by the first of the next month due to my being non-compliant with the guy who came to spray for bed bugs (I had to take my son to an emergency appt with the endocrinologist and I was back before the guy left, I even asked if I needed to move anything and he said no…)… I kept my apt very clean (verified by the behavior therapists that came to see my son) I was told the carpet had been replaced prior to our moving in and found out it hadn't been by a reliable neighbor and the fact that the carpet on the stairs was worn through by the month after we lived there.. I have never received a bill from them although I've asked.. I am trying to purchase the house we are living in and, even with their bill, my score is 712, 684 and 710 per different sites… I just tried to get a credit card because I've never had a credit card and was turned down because of the bill on there…. The bill is for $1200 which may not seem like a lot to other people's standards, but we don't have much which is why I am trying to buy this house so I could get our house payment down… I have no idea what to do and don't even know if I can afford an attorney… I even had several people tell me they thought we were told to move because my son is autistic and the fact I had asked for a downstairs apt due to my mobility issues… We never caused problems there, we tried to help other people out as much as we could, I don't understand why they won't give me the bill so I can see what I'm being charged for… Do you have any ideas on what I should do?
Michael Bovee says
Does your city have a housing control, or renters rights office? I would start by contacting them. Is there a collection agency involved, and if so, what is the name of the company? That could open up some additional suggestions.
I am a recent college graduate who lost his job two years ago when everything went haywire. I have paid off 4 of my 5 accounts at this point. The last was a lease that got repossessed. I recently set up a payment plan to resolve the issue with their collection agency. How bad will this hurt my chances of getting the apartment? My credit score has crawled back up to around 648 and I can provide documentation of the payment plan agreement when I go on the interview. Will this help? Is there anything I can do in preparation to help my chances besides having a good interview?
Michael Bovee says
An extra amount to put down as deposit or pay an extra months rent in advance will help your chances.
Jamie scott says
How would I go about cleaning up my own credit..had to move out of an apartment because I lost my job…it is now showing that I owe them $8000 on my credit report
Michael Bovee says
How long ago was it that you left that apartment?
What state are you in?
I left a complex perfectly clean except for the fire place.
Then I get hit for carpet that should have been replaced years before. and other items.
I take pride in clean.
I lived in an apartment with a girlfriend 5 years ago. We split, I tried to get my name of the lease but she wouldnt agree to it. I havent heard of owing a debt until me and my current gf applied for an appartment and were denied because I had an outstanding balance with an apartment.
The gf had abandoned the apartment we lived in and didn't pay rent or something. I looked into the debt, called the collection agency that had my debt, they told me I owed $4000+ and that my ex wasn't listed on the debt, just me. Did more digging, got a credit history report, the report shows I only owe $722. I went to the apartment to talk to someone about it but the complex is owned by a different company now, and they had no amswers for me except the name of the company that previously owned the complex. I tried looking into contacting them with no luck. The debt collector doesn't appear on my credit history, just the failure to appear in court (which i never received a summons to court) with the name of the apartment complex.
Michael Bovee says
It would be a good idea to talk over your situation with an experienced debt collection defense attorney. Let me know your state and I can email you some contacts I know have the experience to help you consider your next step.
How to Get a Rental Without Meeting the Income Requirement
Not everyone is blessed with a salaried job that pays $80,000 a year. Yet in places like New York, Chicago, or Boston, for example, many landlords require that potential tenants earn somewhere between 40-50 times their monthly rent in annual salary. That means that if you earned $80,0000 per year (a hefty sum for someone just out of college), you couldn't expect to rent any place that costs more than $2,000 a month.
On the face of it, that doesn't seem like a huge problem – except that even if you're splitting a 3-bedroom with two others for $2400 (your share is only $800), many landlords still require that one of you make in excess of 40 times the total rent. Yes, that's right, even though each of your shares is far lower, one of you has to have a salary that's 40 x $2,400 … or, in other words, $96,000! What!?
While this doesn't seem to make sense, many landlords want the guarantee that the primary leaseholder is good for the total amount, no matter how much that might be. Begging "pretty please" won't help – but here are some things that will.
Ask First. No sense in wasting your time falling in love with a place, when you know you can't have it. This means that if you're going through a broker, explain that you don't meet strict income requirements. Likely the broker will be able to show you places that are a bit more lenient. Similarly, if you're reaching out to a management companies on your own, ask them about their income requirements. Explain that you're credit-worthy and reliable. If they stonewall you, or don't seem flexible, then don't bother looking at places with them.
Get a Guarantor. A guarantor is someone (usually a parent) who is willing to back your lease. Provided you pay your rent on time, the guarantor will not lose any money in the transaction. That said, if something were to go wrong, the guarantor would be on the hook for all money owed – which is a big responsibility. Additionally, the guarantor always has to have good credit and usually must earn 80-100 times the monthly rent (or have significant demonstrable assets). Using a guarantor is probably the most common way to get around the income requirement.
Look for Listings at Smaller Places. While it's not always the case, smaller operations, such as a family renting out a portion of a brownstone, or a management company that only runs two buildings, are often more flexible and willing to deal with potential renters one-on-one. You may end up cutting a deal that you both find agreeable.
Look for Already-Occupied Shares. Yes, the primary leaseholder may need to meet the requirement. But if you're moving into a place mid-lease, and taking over someone else's spot, you'll likely make a deal directly with the remaining residents in the apartment. They'll want to make sure you're good for your share, but they'll likely be far less stringent than a typical landlord. And once you're in, you're in – you'll usually be able to stay there with the group if they end up renewing the lease.
Network, Network, Network. Sometimes it's who you know – and you don't know who you know until you ask. Tell everyone what you're looking for and you may find that a friend's uncle is landlord, for example. If you have an in, you're far more likely to get a place in spite of not quite meeting income requirements.
Pay Up Front. Some people do have significant savings … they just don't have a fabulous job right now. Often companies will make exceptions if you can prove you have a ton of extra money lying around (think 80-100 times the monthly rent)… or if you offer to pay extra on your security deposit, or even prepay your entire annual rent. This is also a good solution if you have poor credit, or no credit … provided you have the cash.
Purchase Lease Guarantee Insurance. Basically, it works like this: you pay a company to serve as your guarantor. They're acting as an insurance policy for your landlord, and you're paying the premium. If you go through the company Insurent, for example, after passing a credit check you're pre-approved for any place where your salary is 27.5 times the monthly rent, which is a significantly lower amount that what's required by landlords. The downside is the cost: it's a one-time fee that runs approximately 80-90% of the first month's rent.
As should go without saying, good credit gives you many more opportunities – you'll likely find a workable solution without too much difficulty. If you have bad credit, see our article on credit scores and what your options may be – it's still doable, but harder. Either way, keep your head up. Persistence and patience are the name of the apartment-hunting game!