Head of Household Tax Filing Status after Divorce or Separation
Being able to claim the head of household tax status makes a lot of sense if you are separated or divorced and have a dependent child still living at home. With this filing status, the standard deduction is higher and your tax rate will generally be lower as compared to filing jointly with your husband or as a single person. And for low-income single parents this can also result in a higher tax refund.
To be able to file your taxes under the head of household status, you must meet these requirements:
Your husband didn't live in your home for the last 6 months of the year for which the taxes are filed.
You will not be filing a joint return with your spouse.
You paid over half the cost of maintaining you home for that tax year.
Your child lived in your home over half the year.
Your child is considered a "qualifying child", meaning he or she has not turned 19 by the end of the tax year (and is not a full-time student), is younger than 24 at the end of the tax year (and considered a full-time student for at least 5 months during the tax year), or permanently disabled.
You are considered the custodial parent, even if your spouse will claim the dependency exemption via a signed Form 8332.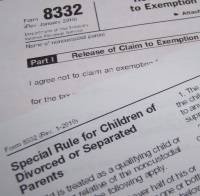 The IRS is pretty specific in their definition of who is the custodial parent. To be classified as the custodial parent, your child must live with you more nights during the tax year than your ex. If you have recently separated or divorced, this test applies to the period after your spouse moved out. If the parents have a joint physical custody arrangement and the child lives with each parent an equal number of nights, the parent who has the highest adjusted gross income would be considered the custodial parent. In situations where one of the parents works nights, the parent who has the child living with them the most number of days is considered the custodial parent.
Only one parent is allowed to claim the head of household status if all qualifying children reside with the custodial parent.
Custodial parent determination in split custody arrangements
In split custody situations, each parent has at least one child living with them the greater number of days out of the year. If each parent meets the requirements to file as head of household (as described above), both may do so if neither contributed to the support of the other household and separate finances were maintained.
Can I file as head of household if I sign the form 8332?
IRS Form 8332 allows the non-custodial parent to claim the dependent exemption and child tax credit for a qualifying child, but it doesn't change the filing status of the custodial parent. You will still be able to file your taxes as head of household, as well as claim the exclusion for dependent care benefits and the earned income credit if you qualify as the custodial parent (as described above).
If your divorce agreement stipulates that you and your ex will alternate years being able to claim the exemption, it's a good idea to sign a new release (form 8332) every year your ex will be claiming the exemption. This way if your custody agreement is modified in the future, you won't have the hassle of trying to prove that you are entitled to claim the exemption. If by chance you did sign an extended release to allow your ex to claim the dependency exemption for your child, form 8332 also provides a section to allow you to revoke the release of claim for exemption.
I strongly suggest reading more about the Head of Household tax filing status in IRS Publication 501 before filing your taxes.
In addition to the head of household tax filing status, you also need to consider who claims the children as dependents. The following articles shed more light on some of the tax issues that come up during and after divorce:
How do I prove head of household to stop garnishement if I did not file it on my tax return?
I have a judgement against me from a credit card from 2000. They have now filed to garnish my wages. I care for my 9 year old niece and am responsible for my mother (65). I offered to settle with the company because I can't afford my responibilities with a garnishment and they said if I can show them a tax return showing head of household they could accept my settlement offer, but I did not file the minor child on my tax return. How else do I prove head of household, or is there a better way to settle this debt without a head of household tax return? Also the judgement was in 2005 how long can they collect against a judgement?
You need to talk to a litigator in Jacksonville. [removed]
When you were served with a copy of the Writ of Garnishment and the Employer's Answer, you should have received a form from the Plaintiff, issued by the court to complete and claim the head of household exemption, which essentially means that you provide more than 50% of the support of a minor or other dependent. It looks like you qualify but you and or the dependents would need to testify accordingly in a court hearing. The tax return is but one method of proof, but it is not dispositive and you can prove head of household without it. Just make sure you file the Exemption form with the Court immediately and the hearing should be set by the clerk and advanced on the calendar. A lawyer would help, but if you can present the testimony, documents showing your income as well as the claimed dependents (you only need proof as to one to win) you should be OK. The judgment has a 20 statute of limitations.
How to Avoid Illegally Claiming Head of Household on Your Taxes
By: Jamie Waggoner
In this blog post, we are going to discuss four ways how to avoid illegally claiming Head of Household on your taxes.
This happens quite often. Sometimes people do it on purpose. Sometimes people don't know what's being done by their tax preparer.
The reason so many people claim Head of Household incorrectly is because, well, claiming Head of Household, you are eligible for more tax refund money than by choosing another filing status.
The consequences, however, can be more trouble than its worth.
Many people think that if they "look the other way" as their tax preparer puts them down as head of household and they didn't understand the rules, then that it means the tax preparer is at fault if the taxpayer gets in trouble.
That is not the case, at all.
The tax preparer isn't responsible, you as the taxpayer are 100% responsible for all of the contents of your tax return.
One common way that this incident could happen is if two people claim head of household, but are living at the same address.
This is something to discuss with the people you are living with currently to make sure this doesn't happen to you.
Head of Household means that you are paying more than 50% of the costs of the home—so if two people are claiming they both pay more than 50%, it becomes a little bit of a "stretch" just from a math perspective.
Often people discover that if you're married but "file separately" you can (in some cases) get a bigger tax refund.
This often involves one person claiming Head of Household, or even both spouses claiming it.
If you are legally married, and live in the same house, you're supposed to file either Married Filing Jointly or Married Filing Separately, not Head of Household.
Head of Household for Your Own Household, But No "Qualifying Person"
Some people think they are head of household because they live by themselves and pay all their own bills.
Well first of all congrats for paying all your bills. But, unfortunately, you must have a dependent (or another "qualifying person") to claim head of household.
To claim head of household, you must pay more than 50% of the total household expenses.
This is something to remember when discussing with your partners, roommates, or spouses.
Violating the head of household part of taxes is one of many mistakes that can happen when not knowing anything about taxes or how to do them.
You can become subject to all sorts of penalties, interest, and other major hassles.
This is why Pronto Tax School is here for you, to teach about taxes and even license you to be a professional tax preparer if you so desire.
If you are ready to make sure you won't be that shmuck that doesn't know anything about taxes, then click here to take a course about taxes that will drop some serious tax knowledge on you; unlike that underwater basket-weaving course you recently completed, learning about taxes is a skill you'll actually use, and will benefit you all throughout your life.
Jamie Waggoner is a Communication Major at University of North Carolina-Wilmington (UNCW). Jamie's favorite course at the moment is Integrated Marketing, which shows how smart companies use storytelling and word-of-mouth to develop authentic and compelling relationships with their customers and the general public. Jamie did not realize when she accepted an internship at Pronto Tax School that she would become a tax expert, but hey, life is full of surprises and that's a good thing.
SA Household Income: How Much Whites Earn More Than Everyone – Stats SA
The latest Living Conditions Survey in South Africa as released by Stats SA shows that SA Household income is proportioned in favor of white South Africans.
Results of the 2014/2015 survey indicated that on average, South African households had an income of R138 168 in 2015.
It was revealed that white-headed households had an income roughly 4.5 times larger than black African-headed households and 3 times larger than the average national income.
On average, they earned the highest income at R444 446 per annum. After them comes the Indian/Asian-headed households with R271 621.
While households headed by coloureds earned on average R172 765, black African-headed households earned the least at R92 983.
Coloured-headed households had an income almost twice of that of black African-headed households and 20% more than the national household income average.
Ultimately, black African-headed households earned on average a third of what Indian/Asian-headed households earned in 2015.
Findings of the study also exposed that white-headed households receive two-thirds of their income from work and 22.8% from imputed rent and capital.
The table below as presented by Stats SA captures the average annual household income by population group of the household head.
Again, almost one in every ten (12.39%) black African-headed households in South Africa were found to be in the upper income per capita quintile.
The implication of the above is that an overwhelming majority (87.61%) of black African-headed households were earning less than R71 479 per annum. Roughly, that's R5 957 per month or R199 per day)
Also, about half (46.79%) of black African-headed households were in the bottom two income quintiles.
Only 9.63% coloured-headed households fell in the lower quintile and, 20.90% of them fell in the upper income per capita quintile.
Similarly, only 1.11% of white-headed households were in the lower quintile, as were 1.99% of Indian/Asian-headed households.
Thus, vast majority (74.87%) of white-headed households and more than four in every ten (43.92%) of Indian/Asian-headed households were found in the upper quintile.
The income per capita quintiles as identified, have the following values:
Upper quintile: R71 479 and above
4th quintile: R28 092 – R71 478
3rd quintile: R13 819 – R28 091
2nd quintile: R6 486 – R13 818
Lower quintile: Up to R6 485
Meanwhile, male-headed households had an average income of R165 853 per annum compared to R98 911 for female-headed households.
The survey results exposed that in 2015, men earned almost twice of what women earned from work.
It was also revealed that 72.6% of South African households obtain their income from work. The average income earned by working for all households is R100 246 per annum.