How Much House Can You Afford? 10 Steps To Determine Your Home Buying Budget
by Silicon Valley Blogger on 2007-12-27 29
Develop a home buying budget and find out what kind of property is right for you.
A lot of the problems we are seeing right now in the real estate market are due to homeowners who've overstretched their budgets to afford the house they wanted. In order to avoid such a predicament, we should be approaching this process more systematically. Here are some steps to ensure we don't buy too much house:
#1 Start off conservatively.
We used to live in a much smaller home several years ago, but when it was time to "move up", mainly to accommodate new members in our family, we started our house-hunting process by thinking we'd buy a house not much different from what we already had, but just slightly bigger. From the beginning of the process, we already placed a cap on our budget, thus establishing the maximum budget we'd like to have.
Have some idea what kind of features you'd like to have for your "target" house. We used magazines, design catalogs, drives around the neighborhoods we wanted to settle in, to give us some basic idea about what to look for.
After compiling the list of home features that are important to you, prioritize them. This will allow you to be able to make tradeoffs later on, if necessary, once you've established your budget. Also, this information would be quite valuable for any real estate agent or broker whom you hire to help you with your house hunting endeavors.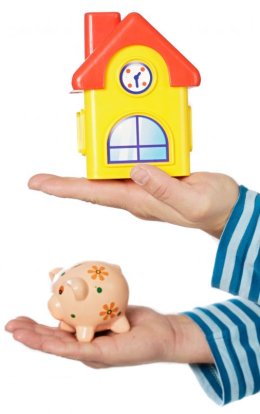 You can start out by asking a few questions: how much cash do you have available for a down payment? And how much do you anticipate closing costs to be? Knowing the answer can help you determine what types of loans you can get. Typically, down payments range from 5% to 20% of a home's purchase price.
You may have saved earnestly to fund your house. In our case, we decided that we could also earmark some or all of the proceeds of our original home's sale to be our new house budget. We were comfortable about planning a rollover of our previous home's equity into our new home. And being financially conservative, we generally prefer making a larger than usual down payment in order to reduce our debt exposure.
The standard rule for monthly mortgage payments is that it should be between 25 to 33 percent of your monthly gross income. More specifically, here is the 20/28/36 rule, a useful rule for mortgage affordability:
Use a down payment of 20%.
No more than 28% of your gross annual income should go to mortgage, insurance, homeowner's fees and real estate taxes.
No more than 36% of your gross annual income should go to mortgage, home and other debt expenses such as credit card debt, car and school loans, etc.
Note that the last two numbers (in this case, 28 and 36) represent debt-to-income ratios, which help you determine your maximum monthly mortgage payment. It's a big part of the mortgage lender's concern. Following is the Debt-to-Income Ratio explained. There are two calculations used to determine this number:
The Front-End Ratio: This calculation determines how much of your pretax income will go towards your monthly mortgage payment. The mortgage payment figure includes interest, principle, taxes, and insurance and typically should not go over 28% of your gross monthly income.
Annual Salary x 0.28 / 12 (months of the year) = Maximum Housing Expense
The Back-End Ratio: This calculation determines the amount of your total gross income that will go to pay all of your other obligations, including the mortgage, other loans, child support, credit card bills, and any other monthly debts. The figure should not exceed more than 36% of your gross income.
Annual Salary x 0.36 / 12 (months of the year) = Maximum Allowable Debt-to-income Ratio
Let's go through a local example: the following illustration demonstrates the kind of house your typical Bay Area engineer can comfortably afford, and what price limits s/he needs to adhere to. See the results from this CNN Money Home Affordability Calculator: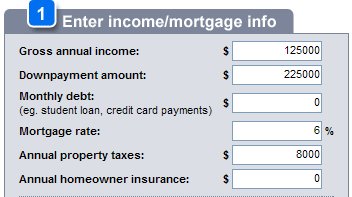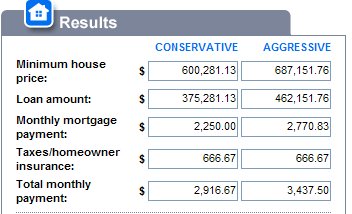 To evaluate this example, let's check out some assumptions: the current median price for a Bay Area abode is around $625,000. [Note: I've seen various reports showing slightly different numbers but this should do.]
Yikes. These days, it looks like you'd have to save a LOT of money for a down payment before you can buy the average house in San Francisco. Let's take a look at those numbers I entered: I'd consider $100,000 to $125,000 to be very good pay for an engineer around here. I also surmised that typical property taxes are $6,500 to $8,000 a year and assumed that the hypothetical down payment is at $225,000, a truly large down payment if I ever saw one!
What this shows is that by playing within some hard financial rules — see the assumptions for how the calculations were made above — at an interest rate of 6%, you'd need a $225,000 down payment just to be able to snag that average Bay Area house given the $125,000 income (though the down payment in this example is a high 36% of $625,000, note the other factors that were considered for this budget). This also implies that with a higher income, you may be able to get by with a lower down payment for the same priced house.
As I've mentioned, this is but one example of how to determine the range for your home budget. [Though it's an extreme case that pretty much demonstrates home UN-affordability in California.] Whether or not you find this a realistic representation of your situation, it's still a good starting point for developing a budget.
#6 Get prequalified for a loan.
This will give you a great opportunity to review your finances with a loan professional and truly determine if your house buying plan is feasible. This process doesn't cost anything and should give you some idea how well your standing is as a homebuyer in this current market since the lender will be carefully evaluating your finances for that prequalification.
#7 Talk to friends and family.
Augment your neighborhood and home search with discussions with your family who may be able to offer you some opinions, input or even advice on the matter. At the very least, they can be a sounding board for any ideas you may have. This is just another way to get a different perspective on things, especially with regards to the huge decision that's facing you.
#8 Look around and check comps.
Armed with your prioritized wish list and your budget numbers, you may want to pound the payment and check around to see what is available out there. It's time for the process of finding out whether the neighborhoods and homes you had in mind are a fit for your budget. See if there's a match!
#9 Make tradeoffs and focus on a market.
You may be lucky and find homes that will fall easily within your budget range and which sport all or most features you have on your wish list. But if that's not the case, your ordered list should help you rationalize which features you may be able to live without or not. We found that by viewing several houses, we solidified the things that were important to us and what we couldn't compromise on, such as the number of rooms, location and size. And ultimately, we found a home that we just couldn't pass on, even though it "slightly" broke our budget. So yes, I have to confess that we went over our budget a bit but it was so worth it since there would be no way we could afford our house if we tried to buy it today!
#10 Find and consult with a good realtor.
Look for the ideal real estate agent since they will no doubt have some suggestions on how to match you up with just the right house for your budget. When we first started our house-hunting expedition, our realtor saw how we insisted on keeping with our strict budget. He then reviewed our accounts, income and taste in homes and gently persuaded us to look into listed houses that were above our price range, assuring us that we'd be able to afford it and we would be happier about things in the long run. We went for a 40% increase in space (40% more than what we had originally wanted) for a 25% increase in budget. It turns out that our initial budget was indeed too conservative (see #1) and that we had room to pick up more house for a bit more money, and it was indeed the right choice in the end!
So good luck with finding the right house for your wallet. Now that the property market is easing, homes will move further within our grasp and be riper for the picking!
Copyright © 2007 The Digerati Life. All Rights Reserved.
how much house can I get with a gross yearly income of $120,000?
The Homes.com Questions and Answers Community offers a great opportunity for California real estate professionals to connect with the public. Consumers looking for an apartment for rent or homes for sale in California can reach out for answers to their questions. By offering answers, California real estate agents and other professionals can demonstrate value and build credibility. Registered users can even set alerts for local coverage areas in order to be contacted when questions are posted in areas of choice.
Homes.com, ForRent.com, Dominion Enterprises, Property Managers, Owners, Agents, and paid advertisers are not responsible for typographical errors.
Prices, conditions and apartment availability are subject to change without notice.
'I earn £1,200 a month from adverts on my car': How one driver is saving for his home deposit by selling space on his car
By Lee Boyce for Thisismoney.co.uk 11:41 BST 02 Nov 2015, updated 14:26 BST 05 Nov 2015
'Million Quid Car' driver is being paid £1 a mile for carrying adverts
Firm behind the campaign hope to have motor fully plastered in ads
Jamal Afridi earning extra cash to put towards a house deposit
A delivery driver in London is allowing dozens of companies to pay to stick adverts on his car in a bid to save for a house deposit.
Jamal Afridi, 23, who rents in east London, has managed to cobble £6,000 towards a deposit in three years.
He uses his Ford Fiesta as a delivery driver around London, clocking up roughly 60 miles per day, sometimes more, picking up and dropping off parcels for a personal shopping app.
He is also set to take a job for Amazon over the busy Christmas period in the evening.
He earns around £1,200 a month after tax and expenses, such as fuel. Of this, he manages to squirrel away just £200 - and that is before his wife gives birth next month and saving is likely to become even harder.
In a bid to boost his income and attempt to get on the property ladder, he signed up for the 'Million Quid Car' campaign being run by Car Quids.
This is Money covered its launch last year. Drivers can sign up to the website and then accept adverts on the side of their car for a fixed amount of money per month.
However, during the Million Quid Car campaign, Jamal's entire car will be covered with adverts, rather than carrying just one.
So far, 30 brands are plastered on his car, such as Papa Johns, Travelex, Joe&Sephs and YPlan. Car Quids are auctioning off the remaining slots to try and gain as much money as possible on the car.
It is inspired by the Million Dollar Homepage – a website which caught the attention of advertisers in 2005, selling off adverts for $1 for each pixel they took up.
Brands have paid between £250-£1,000 to be on the car. Car Quids says the price will continue to go up as it get closer to covering the whole car in advertising.
It is unlikely to actually get £1million worth of adverts on the motor, but gives it a catchy campaign name.
Car Quids estimates that 300,000 people will see the car each month on the road and has a heatmap tracker - pictured below - to show its whereabouts.
Jamal is being paid £1 for every mile that he drives, meaning he will earn another £1,200 each month from his weekday delivery work.
How much can I earn? Typically you can earn between £50 and £100 per month.
Can I use my car? Yes. But advertisers look for specific drivers that match your profile – IE, a car in a busy city is more likely to be appealing than one in a rural location. But it is free to sign-up to the website.
How are adverts applied to my car? Most advertising campaigns consist of vinyl stickers on the car - usually the bonnet and both sides. Car Quids arrange for you to get them fitted with one of its partner fitters.
What about insurance? Car Quids says drivers should check with their insurance provider. It says 90 per cent of the time, the insurer says it makes no difference.
He also hires it out at the weekend through easyCar Club, a website which allows owners to list their motors to be rented by those nearby. He makes money from both renting it and the £1 per mile premium.
Car Quids says billboards can cost hundreds of thousands of pounds for a few weeks, whereas this costs a fraction.
Andrew Gallagher, senior director at pizza chain Papa Johns, said: 'The way Car Quids is utilizing cars as an advertising format allows us to be a lot more creative with our marketing.
'We've tried lots of new marketing channels, and Car Quids looks like they have a winner, the cars look great and it's only a matter of time before more brands start including this in their media mix.'
Since launching last year, Car Quids says it has 7,000 drivers registered. It adds that on average, drivers earn £215 per campaign, which last three months.
House prices are up nearly 10 per cent annually in the capital, the latest data from the Land Registry showed last week, to hit £500,000 – five times the amount compared to the North East.
It would mean on a 80 per cent loan-to-value mortgage, a £100,000 deposit is needed – although figures are heavily skewed by pockets where homes trade for more than a million pounds.