FHA Insider: Getting borderline FHA loans approved . become an artist and learn to paint the picture
Federal Housing Administration (FHA) loans are "Story Loans" … and the better you are at painting the picture for the underwriter, the more FHA loans you will close. The FHA was created in 1934, on the heels of the Great Depression, in order to help Americans achieve homeownership. Given the challenges they faced at that time in history, these loans had a lot of stories to tell. Today, we certainly have no lack of such stories in the loans we work on. How many times have you had this experience: You're speaking to a potential client; everything about the loan sounds great, and you're already adding up your commission when they pipe up, "Oh! Did I tell you I had a bankruptcy?" or "Oh! Did I tell you that I'm on medical leave?" The fearless and experienced FHA originator, undeterred by these statements, just gets out their FHA Intuition Palette and begins to paint.
As a former FHA underwriter, the Letter of Explanation, or LOX or LOE as some call them, is the single most important document in a borderline file. The LOX (what we call them here in the great state of Michigan), is the document underwriters turn to when they are undecided on a loan. And I can tell you that in my nearly 14 years of originating and teaching FHA, sad to say most LOs do not know how to help borrowers construct an effective LOX.
I have developed an LOX formula that I have used myself, and taught for many years, and it works! The formula is this:
The opening of the letter should give the background, the material facts and events that led up to the bankruptcy, such as the judgment, the repossession, etc. Be sure to frame the situation clearly for the underwriter. The body of the letter should convey the client's struggle and their reaction; that is, what they had to go through in dealing with the challenge and how they reacted. This section is most critical and should contain what I call the "emotional hook;" that is, the life event that would make any compassionate human being feel sympathetic toward the person for what they experienced. It's the challenge in your client's life that makes the underwriter say, "Wow, they went through a lot." If the letter you construct with your client can evoke this response in the underwriter, you've accomplished your goal. The closing should include a request to approve their loan and give them a chance. This is "where it's at" with borderline FHA deals and is the reason that the FHA was created: To hear people's struggles, stories and triumphs and to offer them the opportunity of homeownership.
Now, your clients won't always have a compelling reason why they had problems with their credit, and often, the more borderline the deal, the less compelling reason they had for the mishap. Hence, the less likely the loan will be approved. Of course, that works in the other direction as well: The more borderline the deal and the more compelling the circumstances, the more likely the deal will get approved.
Now for an example of a well-constructed LOX:
My name is Derrick Johnson, and I wish to explain to you why I had a string of 30-day late payments on my mortgage and credit cards nearly two years ago. I was at work and sustained an injury to my arm that put me out of work for nearly six months. It was during this time that I fell behind on my bills, since I was not able to work. Before and after this time, as you can see from my credit report, I have a good history of paying my bills on time.
I suffered a lot of pain during this time, and in addition to being out of work, it was physically difficult to do the most basic things for myself. It took me nearly 30 min. to get dressed, and just feeding myself became a great task. Adding to the pain I was already experiencing were all the rude representatives from my creditors, who didn't really care about the struggles I was going through. The pain of not being able to pay my bills only made my physical pain worse. Honestly, it was one of the most difficult times in my life.
Though many people in this situation might just ignore their creditors, I didn't. Even though they didn't seem particularly concerned with me or my situation, I made a point of keeping in touch with them throughout my time off, and gave them updates on my progress. I wanted them to know that I was creditworthy and that I wasn't just ignoring them.
Although my credit still isn't perfect, I take paying my bills seriously and have done the best I can. I am trying to buy a better home for my family, in a safer neighborhood with a better school system. Please know that it would make a huge difference in our lives if you would approve our loan. I sincerely request that you see the merit in my circumstance and give us a chance and getting our kids into a better environment and to achieve our dream. I thank you for your consideration.
This letter has every element of a good LOX. Without it, this type of loan can easily get denied.
I cannot tell you how many loan officers (LOs) either make up LOXs because they know they need them for the file, or don't take them seriously. These LOs are making a big mistake, and will never become FHA experts. If need be, provide supporting documentation to back up what was stated in the LOX. By doing this, an underwriter feels more confident in approving a borderline loan.
The members of my FHA Success Desk online training resource have the benefit of asking us directly how to package their tough files before they submit them to underwriting. Recently, a member from California submitted a question about how to submit a file for a borrower who did jail time. Here's the response I gave our member:
An underwriter's concern here would not be whether he did jail time, but rather the length of time back on the job and whether it is considered stable income. FHA guidelines do not bar FHA financing to people who have been in jail unless it was for fraud-related to a housing or finance issue like giving or receiving kickbacks. Outside of housing fraud, once a person has served their sentence they are to be treated fairly as anyone else applying for a loan.
Here's the approach I would take:
1. Compose a good letter of explanation for the time he was off work. It should be clearly conveyed how remorseful he is and what a lesson he learned (if indeed he feels this way), but don't take more than a paragraph on this.
2. Connect his prior work experience to the current job and include letters from past employers for the VOEs if possible. If you cannot make this connection, then provide a resume.
3. Regarding the fact he has a fiancée; this will help the file tremendously and will likely be the thing that gets him approved in my opinion. It sounds like he's got his act together and wants to lead a productive life. Taking on marital obligations is a plus and adds stability to the file. So at the end of the LOX, conclude with a paragraph about how much they want to get approved for this loan in order for them to begin building a family together.
Remember, on a borderline file, the underwriter goes straight to the LOX hoping to find a good explanation for the derogatory information on their credit report. Now that you have the LOX formula, you can give the underwriter what they seek and you hopefully will be able to close more borderline FHA loans.
FHA Condo Approval Requirements: Sellers and Buyers Beware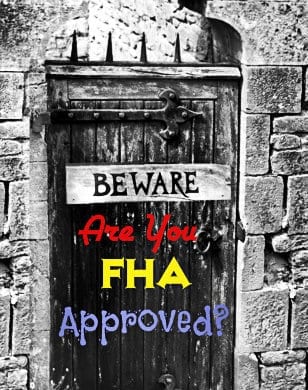 What should buyers and sellers know about FHA condo approval requirements? Plenty! First and foremost you should know that having FHA condo approval is super important.
If you can get one, an FHA loan is an excellent way to pick up a condo in today's real estate market. However, both buyer and sellers are often unaware of everything that goes into the FHA loan process, and just how difficult it can be to land an FHA loan on a condo.
The bar is set high, and both buyers and sellers should educate themselves on the FHA process – for sellers to be more marketable to prospective buyers, and for buyers to take advantage of these low down payment loans.
For those who are not familiar with the term FHA loan, it stands for the Federal Housing Administration. Essentially it is a government backed loan that allows those borrowers who have not saved a substantial amount of money but otherwise have good credit and stable employment to get financing. Both sellers and buyers need to be aware of just how important having FHA approvals can be!
As a seller, you may be wondering why a condo should get FHA approved? The answer is a simple one – you want to achieve the maximum return on your investment! Having FHA mortgage approval increases the odds selling your condo will happen quickly and for a price at least around the average market value – and hopefully above that.
This is a challenging thing to do, though, as anyone who has sold condos can tell you. The condo market can be more fickle than most, and you can find yourself in a difficult situation if you do not remain aware of how the market works.
As a seller of a condominium, having your neighborhood approved for FHA financing is critical. Without FHA approval on your condominium, you lose the potential of a substantial amount of buyers who otherwise would not have the down payment necessary to purchase.
I can remember not that long ago while doing my due diligence for a condo complex in Milford Massachusetts the owner of the condominium thought that they were FHA approved. While double checking on this, it was discovered that the association allowed the approval to lapse.
The owner, after hearing me explain what a detriment this was to not only her property value but everyone else who lived there decided it made perfect sense to get re-instated. Of course, she had to convince those on the board that it was well worth the money to do so. Luckily for her, she was able to persuade them. This was a case of a condo association putting their collective heads together and realizing that having an FHA approved complex was extremely important.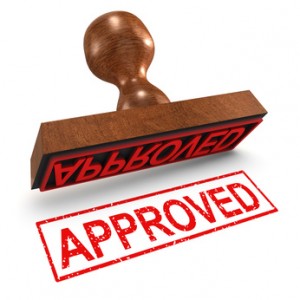 When your complex meets FHA requirements, it automatically opens up your sale to a significant number of buyers. People with lower down payments want to own a home, and they can do so with an FHA approved loan.
Having FHA approval matters to you, because without FHA approval, your condo remains unavailable to this vast number of buyers ready and willing to give you the money you want for your home.
With an FHA loan, a buyer can purchase a condo with only a 3.5% down payment. This is significant because there are plenty of customers who have great incomes but have not saved a substantial down payment. An FHA loan allows them to purchase with a lower down payment than conventional mortgage financing.
FHA approval matters for another reason as well. Even if your buyer has an infinite amount of income, if your condo complex does not meet FHA requirements, it will likely not fetch as high of value as those that do. The reasons for this are simple and straightforward.
FHA demands are for the most part reasonable requirements, things that any good investor would want from his or her property. Demanding secure homeowners, decent cash reserves for the association and a sound legal situation are all reasonable things – especially when you are considering dropping large sums of money towards a particular purchase.
You want your condo and your complex to meet these requirements, especially if you want to get top value for your property. It may be a cumbersome process to go through, but it will be well worth it in the end if you plan on selling for top dollar. Are you beginning to realize why you should get a condo FHA approved?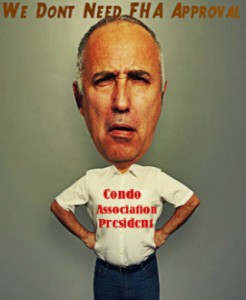 Keep in mind, that a decent percentage of condo complexes do not meet FHA requirements. Some have never applied for FHA approval and others have let the approval lapse. From a homeowners perspective, this is not something you ever want to let lapse. Unfortunately, condos are not like single family homes where you rule the roost.
You are governed by a majority of people making decisions on your behalf. While you may have a voice, sometimes it is easy for things to fall through the cracks and you may be aware that your neighborhood is no longer FHA approved. At times the folks in charge of running the show do not quite fully understand how much this approval can affect market values.
Then again you could be caught in a situation where there are a few thick headed people running the show that are clueless. You know the type – they sit around all day thinking up new rules regulations just to feel like they are self-important and make others miserable.
You can sell a condo that does not meet FHA requirements. However, like any other property that is not perfect, you must rein in your expectations on how much you can get and how quickly you can unload it. You will have to find a buyer that does not need an FHA loan, and you will need to find a buyer that is not as picky about the property he or she is purchasing.
Your condo may have a high number of renters – something the FHA does not like – or it may have a problem right now with homeowners who are late on their payments to the association. Or, you may be unlucky enough to be in a situation where there is ongoing litigation against your particular organization.
If your association falls into any of these problem areas, you may still be able to sell your home. However, it may not command top dollar, and you should be prepared for this. If you have the option to wait until the problem is resolved, such as with delinquent homeowner's association fees, it may be best to do so. If you want top dollar, you should seek FHA approval. Go ahead and explain to the board members why this is so important. In fact show them this article, so they understand how critical it is to their property value!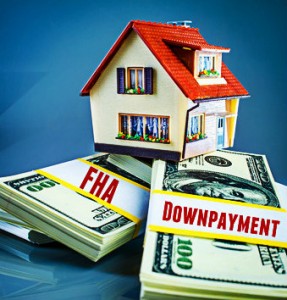 There are many reasons to choose an FHA approved condo, not the least of which is the possibility of a small down payment loan. FHA approval requires adherence to some quality control requirements that few associations can meet.
National Mortgage News claims that up approximately 60 percent of associations are denied approval from the FHA, a serious vetting process that cuts no corners in its demands on condo associations. The FHA only wants to loan money on properties that are considered a sound investment and these requirements are deemed necessary to guarantee such investments reasonably.
By purchasing a condo that is eligible for an FHA loan, you have allowed the government to do a lot of the work for you in guaranteeing your investment. Not only have you managed to get a good loan towards your purchase, but you have also ensured that the majority of the people living in your condo association will be owners and will be up on their association dues.
Perhaps even more important, you will guarantee that your condo association has reserves of cash that are at least equal to a year's worth of fees from the association. This means that when something goes wrong that affects the whole complex, such as roofing issues or flooding problems, your association will have the money to address those problems.
As a bonus, your association is guaranteed to be free of legal problems as of the time of your purchase. When you have invested with numerous other individuals in a property, this can make a big difference.
When any buyer is considering purchasing a condo, they should ask some important condo questions before purchasing. Finding out the answers to these issues can save a lot of heartburn somewhere down the road. While there is a natural progression from some, who have owned single family homes to want to opt for condominium living they often forget just how different it will be when they are no longer king of their castle.
The endorsement of the FHA for condo associations matters, both to buyers and to sellers. If you are selling, you want top dollar for your property. If you are a buyer, you want the best you can buy for the money. FHA certifications guarantee both of these, and should be a priority for both buyers and sellers. Hopefully you have come to the conclusion that FHA condo approvals matter to both buyers and sellers!
What are the benefits of an FHA loan via Zillow.com. See why FHA is such a terrific loan program.
A guide to understanding all there is to know about FHA loans by HUD.GOV.
Search for all FHA approved condominium neighborhoods via US Department of Urban Housing and Development.
Use the additional resources to learn more about why having an FHA approved condo is so important!
About the author: The above Real Estate information on why FHA condo approval is so important for buyers and sellers was provided by Bill Gassett, a Nationally recognized leader in his field. Bill can be reached via email at [email protected] or by phone at 508-625-0191. Bill has helped people move in and out of many Metrowest towns for the last 29+ Years.
Thinking of selling your home? I have a passion for Real Estate and love to share my marketing expertise!
I service Real Estate sales in the following Metrowest MA towns: Ashland, Bellingham, Douglas, Framingham, Franklin, Grafton, Holliston, Hopkinton, Hopedale, Medway, Mendon, Milford, Millbury, Millville, Northborough, Northbridge, Shrewsbury, Southborough, Sutton, Wayland, Westborough, Whitinsville, Worcester, Upton and Uxbridge MA.
Why You Should Rent Instead of Getting an FHA Mortgage
Homeownership has been the American dream for some time, and the government has made valiant efforts to make owning a home an attainable goal for many people. However, the most common way to finance a home, other than a traditional mortgage, is with a loan insured by the Federal Housing Administration, or FHA.
While there are some benefits to an FHA loan, like being able to qualify for a mortgage without a large down payment or an excellent credit score, the reality is that these loans can often be too expensive to justify. Let's take a look at the perks and hidden costs of FHA loans and why you'd likely be better off renting.
Many lenders will approve FHA loans for buyers with credit scores as low as 600, while conventional financing generally requires a score of 700 or above. In fact, the average credit score for those consumers rejected for a mortgage is 724, which is well within the realm of "very good" credit.
Some conventional lenders will approve lower scores, but want a large down payment and low debt-to-income ratio in order to do so.
Additionally, an FHA loan can be had with a very low down payment of 5%, or even 3.5% for first-time buyers. There are conventional financing options with low down payments, but you'll need fantastic credit.
The interest rate seems low, so how can it be expensive?
The FHA's mortgage insurance premiums have increased significantly over the past few years. At closing, you'll have to pay 1.75% of the loan amount upfront. So, on a $250,000 mortgage, you're looking at another $4,375 tacked on to your closing costs.
You'll also have to pay an annual premium, which is divided among your monthly payments. For most 30-year loans the rate is currently 1.30% per year, so on that $250,000 mortgage, add an extra $270 to each payment.
So, let's compare two monthly payments, on a $300,000 home, one with a conventional mortgage and one with an FHA loan. Both have 30-year terms and both have an interest rate of 4.25%. Since the conventional loan requires 20% down, the buyer only finances $240,000, which translates to a monthly payment of about $1,180.
The FHA buyer only puts 5% down, so the loan amount is $285,000. And mortgage insurance adds $309 to the payment, resulting in a total of $1,711, or 45% more than the conventional loan's payment – for the same house. Over the life of the FHA loan, the payments add up to more than $615,000, more than twice the cost of the house. The conventional loan's payments add up to just $425,000.
FHA loans vs. renting – you may be surprised
While the FHA loan payment in the example was just $1,711, this doesn't take taxes and insurance costs into account, which renters don't need to worry about. Adding in those expenses should bring the payment to about $2,100 depending on what area of the country you live in.
When you add in maintenance, which costs the average homeowner between 1-4% of the home's value per year ($3,000-$12,000 on a $300,000 home), owning a home through an FHA loan can easily be more expensive – and more stressful – than renting a similar home.
The bottom line is that an FHA loan is usually not worth the extra costs. Buying a home with a conventional mortgage can easily be cheaper than renting, and if you can't obtain a loan for either credit or down payment reasons, you're probably better off renting and focusing your efforts on building up your credit and savings.
Try any of our Foolish newsletter services free for 30 days. We Fools may not all hold the same opinions, but we all believe that considering a diverse range of insights makes us better investors. The Motley Fool has a disclosure policy.